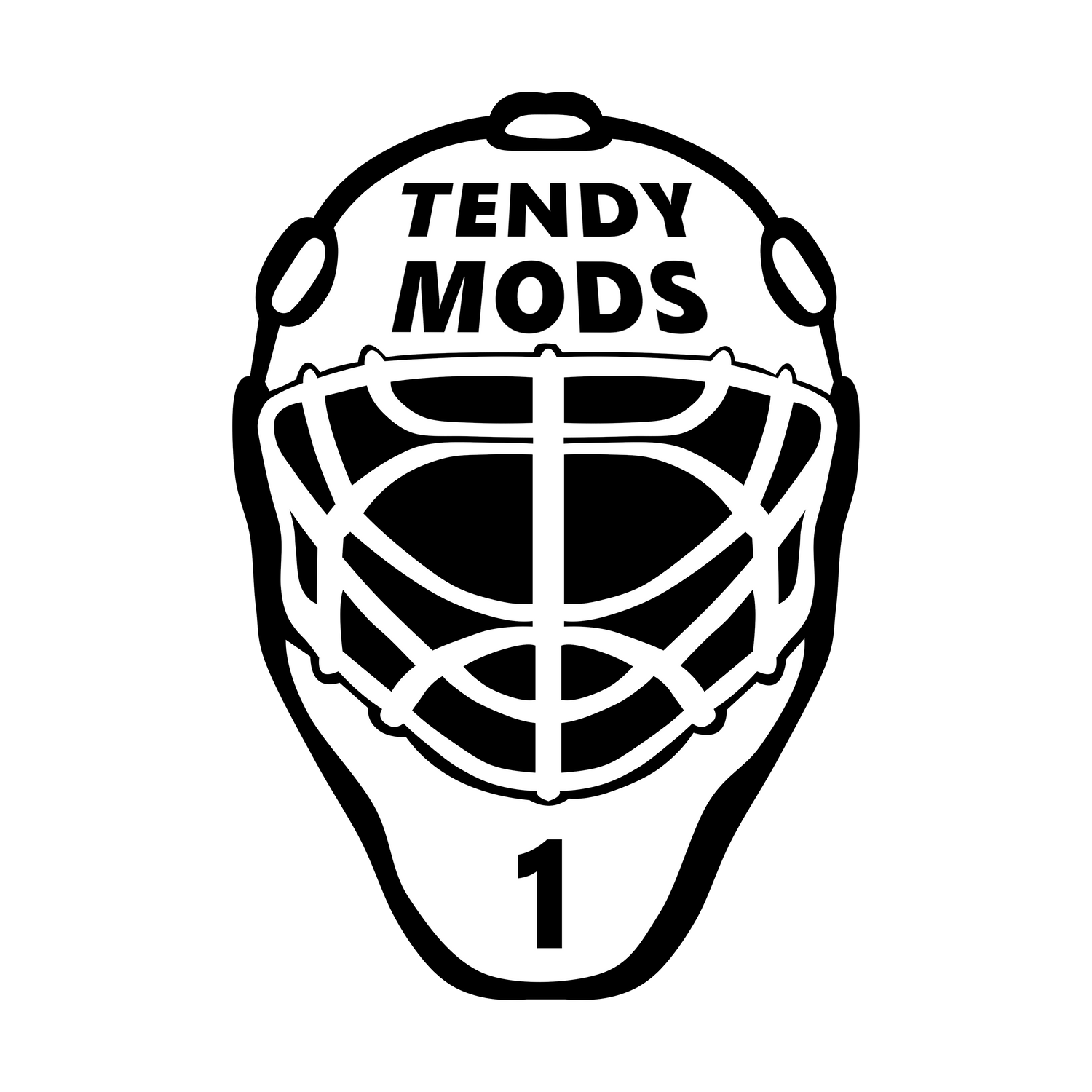 Tendy Mods
Tendy Mods began with the Tendy Buckles project, intending to develop a universal kit to convert ice hockey goalie skates from laces to buckles. The original intent of the Tendy Buckles project was to reduce the time needed in the locker room to put your gear on, but has evolved to actually improve the closure of your skates and to provide a more responsive feeling. Tendy Mod's creator, Javi, is a lifetime goalie with over 18 years in the net. At the peak of his career, Javi played Division 3 club-level collegiate hockey and currently plays in a semi-competitive beer league in a suburb of Chicago, IL.
Frequently Asked Questions
Are Tendy Buckles compatible with my goalie skates?

Tendy Buckles have been designed with the intent to be a universal solution. The kit has proven to be compatible with a variety of ice hockey goalie skates in our testing program, including skates manufactured by Bauer, CCM, Graf, and True. We can not guarantee the kit is compatible with your specific skate model, but we may be able to help you in the case that the included hardware does not work with your skates.

See our customer testimonials for successful installations on various skate models.

Tendy Buckles have successfully been installed on Junior Size 3.5 Skates and up! It has been reported that the buckles are too big to fit on a Youth Size 13.5 skate (Customer's child was about 6 years old). Youth sized skates are smaller than Junior sizes.
What 'size' Tendy Buckles Kit do I need? Can Adults use 3 buckles?

Everyone's feet are different!

Through testing, it is my personal recommendation that Adult sized skates will have a better closure using 4 buckles per skate, while 3 buckles per skate will be sufficient for Youth sized skates.

Customers are encouraged to try different configurations of buckle placement to find the most comfortable fit, prior to using the thread lock provided in the kit.
What is the difference between the 'sizes' of Tendy Buckles: Adult vs. Youth kits?

The only difference is the quantity of buckles per skate!

The buckles and hardware is the same size for both kits.

The description on the Tendy Buckles product page details the specifics of what is included in each 'size' of the kit.
Will Tendy Buckles cause damage/wear to the inside of my leg pads?

Although it cannot be guaranteed, the Tendy Mods have not been shown to cause wear to the inside of leg pads. The buckles have smooth, rounded edges with no sharp elements exposed.

In my personal testing since I started this project, I have not seen any wear on my pads caused by the buckles! Here's a comparison picture from when I started using them in June 2022, through September 2022: https://imgur.com/a/2Yu8x0n

(The wear in the toe area was existing, caused by the plastic cowling of my old Bauer Reactor skates)

With all of the people in the testing group (about 20 goalies), and all previous customers, there have been no reports of wear on the inside of leg pads that was caused by the buckles.

So far I have only heard from one person that reported minimal wear to a pad riser (which I believe is something that lifts the pad up off of the skate), but nothing on the actual pads.

Please report any instances of wear to the inside of your pads to TendyMods@gmail.com so we can keep this section updated!
Can Tendy Buckles be installed on player skates?

While Tendy Buckles can be installed on player skates, they have not been tested for that purpose. For goalies, they sit under the pads so they are protected from impacts and have less opportunities to catch on something and come undone during play. The buckles are not tested/rated for impacts, such as blocking a shot.
Is there a warranty on Tendy Mods products?

Unfortunately, Tendy Mods is unable to provide a warranty on our products. Please contact us at TendyMods@gmail.com with any issues you may have, and we can try to provide a solution.
What is the return policy?

Tendy Mods products are sold "as-is." We are unable to accept returns at this time and we apologize for any inconvenience this may cause. We strive to provide you with a quality product but due to the small-scale nature of our business, it makes it nearly impossible to accept returns.

For additional information please see our refund policy: Link to Refund Policy
Is "Javi" Your Real Name?
Nope! Javi is my nickname.
I was in 8th grade, playing goal in a high school hockey spring league. It was the end of the game, and they were trying to get my attention from the bench to pull me for an extra skater, but no one knew my name. They were shouting names at random, and I happened to look over when someone screamed out Javier. It has stuck with me through high school, college, and now into my adult years all my friends still call me Javi.